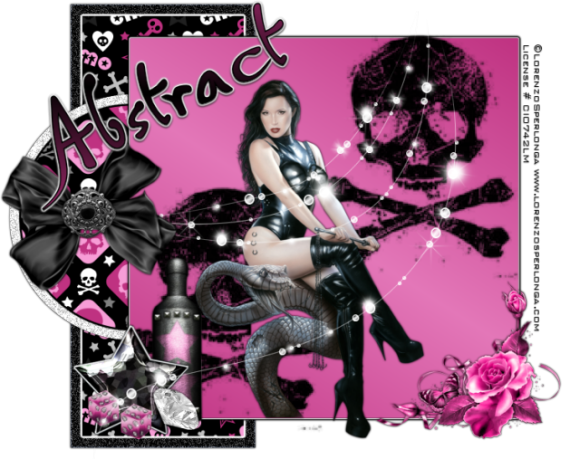 Tube of your choice. I am using the artwork of Lorenzo Sperlonga. I am not sure where to get his tubes now.
Template created by me for the Creative Chicks forum May challenge. You can get the template at the Chicks blog above.
Open your template and remove the creators layer.
Select the black rectangle layer and go to selections select all float and defloat.
Go to selections modify and contract by 15.
Add a new raster layer and open paper 8.
Copy and paste into selection.
Make your black rectangle layer active and add noise at 80%.
Make your new paper layer active and add a gradient glow in in white.
Make your circle layer active and we are going to repeat the above steps however you are going to change the color of the circle to white and use paper #2. Add a gradient glow to the paper layer in black this time.
Take 2 colors from the papers – I used the lighter pink and the darker pink and create a gradient with them.
Make your square layer active and go to selections select all float and defloat.
Flood fill with your gradient you just created.
Open your tube and copy and paste as a new layer and position inside the square.
Go to selections and invert and hit delete to clear any tube that is hanging outside of the square.
Add a gradient glow to the square layer.
Drag the skull layer under your tube and duplicate.
Place one in the top right corner of the square and one in the bottom left corner of the square.
Add a drop shadow to all layers and merge visible.
Now dress up your taggie with elements from the kit.
The choice of elements is yours.
Add your name and copyright information.