Blurred Lines
written 7/20/2014
Supplies Needed:
Animation Shop.
Font of your choice.
Lets Begin:
Open a new blank canvas that will give you plenty of room to work with.
Set your background color to black.
Turn your foreground color off.
Using your preset elipse tool create a large circle in the center of your canvas.
Selections select all float and defloat.
Selections modify and contract by 12.
Add a new raster layer.
Create a gradient using colors from both your tubes.
Using the gradient setting as below: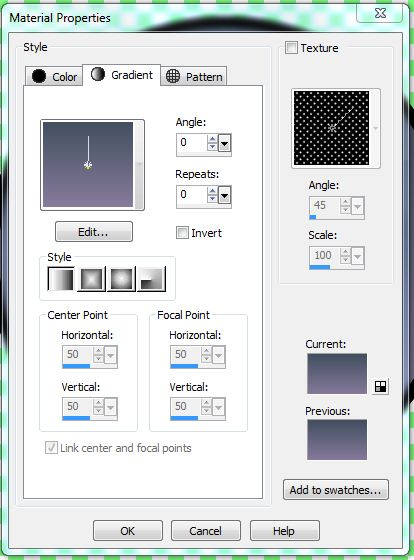 Selections select none.
Add noise at 100% monochrome and uniform to the bottom black circle.
On your very bottom empty layer flood fill with your gradient but change the repeats to 4.
Apply the mask and delete the mask layer and merge the group.
Resize your mask by 80% so that it fits nicely around your circle layers.
Move the mask to the left slightly.
Duplicate and move the duplicate to the right slightly.
Merge these 2 together.
Add a drop shadow of
1
-1
60
2.00
black
to the mask layer.
Add the following drop shadow to the black circle layer:
0
0
100
9.00
black.
Open your female tube and copy and paste on the right side of the circle.
Add a drop shadow.
Make your gradient circle layer active and selections select all float and defloat.
Open your male tube and copy and paste as a new layer and position in the circle area.
Once you are happy go to selections invert and hit delete.
Selections select none.
Add a drop shadow.
Now lets add some song lyrics on different layers.
I just chose random lyrics from the song "Blurred Lines by Robin Thicke"
I put each one on different lines and tried to keep this as uniform as I could so later when I did the animation they didn't look off.
You can do as many or as few as you want.
This will determine the amount of frames in your animated tag.
I also added noise to each of my layers and a slight drop shadow.
Whatever you choose to do make sure you do it to all layers.
Add your name across the middle of the circle.
Add your copyright information.
Lets get ready to animate!
I like to add a white layer to the bottom of my tags because I think it animates better and doesnt look so grainy but this is up to you.
Crop your tag.
Hide all of your layers except the bottom white if you have it, female tube, mask, black circle, gradient circle, copyright information, your name and your first layer of lyrics.
Edit copy merged.
Open animation shop and right click and paste as a new animation.
Back to psp and hide the first layer of lyrics and unhide the second one.
Copy merged and into animation.
Edit paste after current frame.
You are going to repeat these steps until all of your lyrics layers are in animation shop.
Once all of your lyrics are in then unhide your male tube and copy and paste into animation shop after current frame so it is at the end.
In animation shop
Edit select all frames.
Animation frame properties and set to 60.
Go to your last frame which should have your male tube on it and click on it and then right click and change frame properties to 90.
View your animated tag.
If you are happy then save.