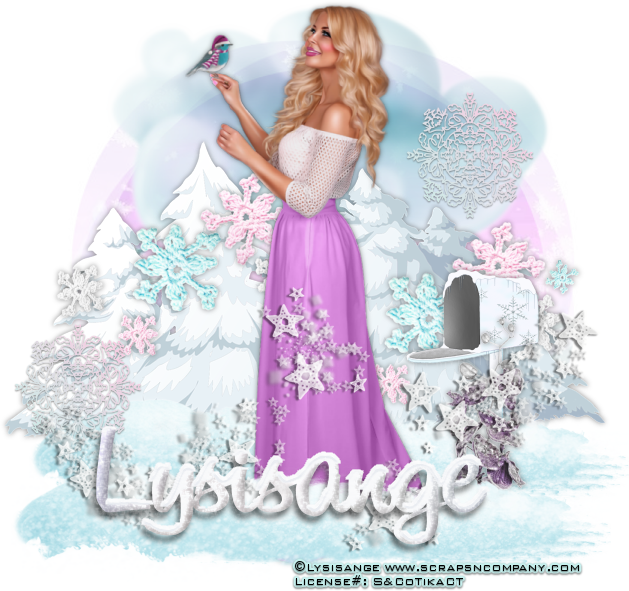 This tutorial is meant purely as a guide. Feel free to use your own choice of tube or scrap kit to make your tag unique. If you want your tag to look just like mine them use the same supplies I have used. This tutorial assumes you have a knowledge of paint shop pro. Any resemblance to any other tag or tutorial is completely coincidental.
Font of your choice. I am using 1 Bean Sprout DNA. This is a PTU font. If you do not have it use any other font.
Eye Candy Nature Snowdrift (optional)
Drop shadow used throughout:
Open paper 15 from the kit. Shift+D to duplicate. Close the original. Promote the background layer to a raster layer. Re-size the paper if you wish. Apply the mask of your choice. Delete the mask layer and merge the group.
Make your canvas large enough to give you plenty of room to work with. You can resize and crop when you are finished.
At this point I like to add my tube to the tag just so I can play around with the placement of the other elements that I choose to use. Open your tube. Copy and paste as a new layer. Re-size as needed. Place wherever you wish on the tag. This is your tag so make it unique. It doesn't have to look just like mine unless you absolutely want it to.
Now let's dress the tag up with elements from the kit. I will list the elements I used. Feel free to use other elements to make your tag unique. Placement of the elements is completely up to you. If you want your tag to look just like mine then use my tag for reference.
Add your name. I used the Eye Candy Nature Snowdrift plugin on the name but this is complete optional and up to you. If you choose to use it the setting I used was small first flakes.
Add your copyright and licensing information.
Crop and save re-size if you wish.
Thank you for trying my tutorial.