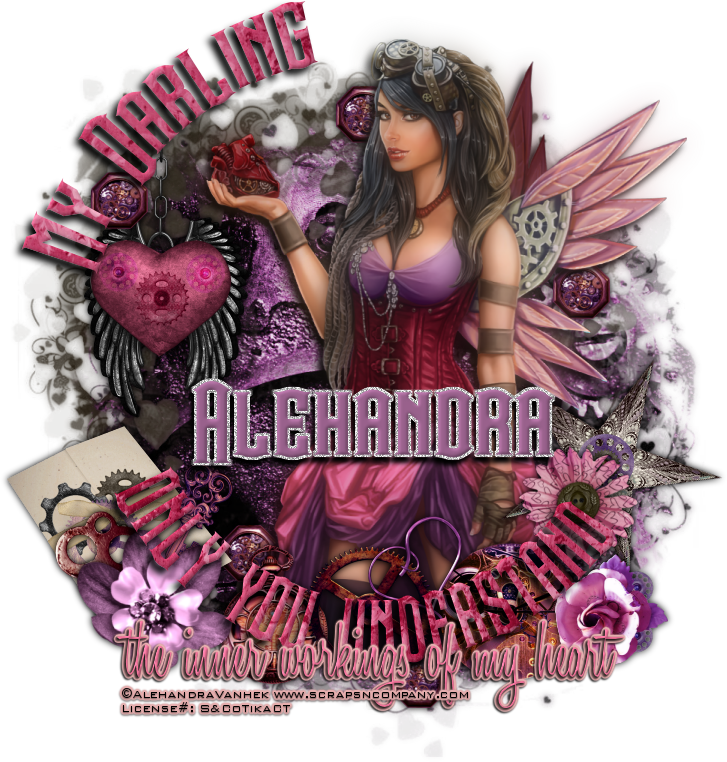 Inner Workings of my Heart
This tutorial is meant purely as a guide. Feel free to use your own choice of tube or scrap kit to make your tag unique. If you want your tag to look just like mine them use the same supplies I have used. This tutorial assumes you have a knowledge of paint shop pro. Any resemblance to any other tag or tutorial is completely coincidental.
Open paper 3 and shift+D to duplicate. Close the original. Promote the background layer to a raster layer. Apply the mask. Delete the mask layer and merge the group. Add a drop shadow of 0 0 100 11.50 and the dark color from the paper. Open paper 14 and repeat but when adding your drop shadow use a purple from the paper. Move this mask down and to the right a bit.
Open your tube and copy and paste as a new layer. Re-size as needed so she is just larger than the mask layers. Move to the right side more so than the left. Duplicate the tube layer. On the top copy go to adjust blur Gaussian blur and apply a blur of 11. Lower the opacity of this layer to 45. Add a drop shadow to the bottom tube layer of 6 -5 100 10.50 black.
Now we are going to put some text on a path. Using your elipse preset shape. Set your foreground color to whatever color you like. It doesn't matter as we will delete this layer anyhow. Turn off the background color. Set the width of the elipse shape to 1.00. Draw out a circle around the outside edges of the mask layer.
Now select the font you want to use and the color or I used paper 7 for mine. Place your text tool up on the elipse shape until you get the A with the line under it and then begin typing whatever it is you want. I placed part of my text around the top left side and then I wanted some along the bottom so I flipped my elipse shape vertical. This will turn the text right side up. And placed the rest of my text along the bottom. Promote your text layers to a raster layer. Add a drop shadow. Delete the elipse shape layer when you are done.
Now let's dress the tag up with elements from the kit. I will list the elements I used. Feel free to use other elements to make your tag unique. Placement of the elements is completely up to you. If you want your tag to look just like mine then use my tag for reference.
Add your copyright and licensing information.
Crop and re-size if you wish.